Create a project
You cannot create an empty My Research Project and add things to it later. You must have at least one resource in order to create the project.
To find a resource, use the search bar on the home page to search for something related to your topic.

Once you've chosen a resource, click the gear symbol in the top right corner to access Tools and Settings.

Click save.

Under Save to My Research, click Select Project then Save to a new project.

Name your project. You will get a confirmation that your selection has been saved.

Your project now exists. To add more items to this project, follow the steps above and select your newly created project under Save to My Research.

To view your project at any time, click My Research from any resource page or use the Research and Resources menu on the home page to select My Research.

My Research dashboard
World Book articles, images, citations, and other media can be saved to a user's My Research.
Content is organized by type within each project.

To reveal content by type, click the arrow next to the source type (image).

The Tools box to the left of the page includes options to print, email, and save the contents of the selected project.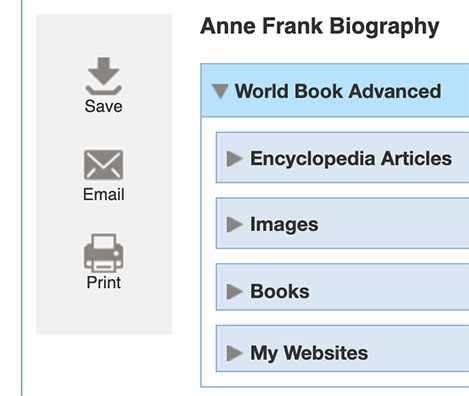 Users can create multiple projects within My Research to stay organized. Switch projects by selecting the Switch Projects drop-down menu.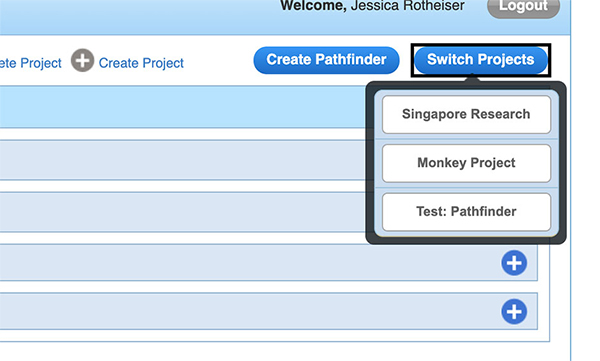 Manage your entries by deleting them or adding notes. Click Delete to remove the item from the project. Select Add Note to record notes. Notes can be used for reminders, a detail to follow up on later, or other information you may want to reference in the future.

Users can enter bibliographic information for books to include in their research.

Users can enter website information for other sources found in their research.

You can turn your project into a shared pathfinder from here as well. For more information, see our guide on how to create a pathfinder.