Create pathfinders
Pathfinders allow users to collect and share World Book content within their account or to the larger World Book Community.
To access your My Research Projects, click Research and Resources.

Select My Research

Choose a project by clicking Switch Projects. Select the project you want to turn into a Pathfinder.

Once you've selected your project, click Create Pathfinder→ Create New Shared Pathfinder.

Fill in the information about your Pathfinder. If you would like to be the only one that can see the pathfinder, select Don't share this pathfinder.

If you would like to share within your account- for example, within your school- select Share only within my account. Or, if you would like to make your pathfinder public, select Share with all World Book users.



Share pathfinders
Once your pathfinder has been created, you can share it with others using the url at the bottom of the page.

Add material
As you find more resources you'd like to add to this pathfinder, click Save to My Research on the source.

Select the desired pathfinder under Select Project.

Your pathfinders can be found with your My Research projects, allowing you to edit them as you would a My Research project.

With pathfinders, you can add notes or instructions to each section. This feature is great for educators creating a pathfinder of resources for their students.

Access pathfinders
To access your pathfinder again, from the home page click Research and Resources→ Pathfinders.

Your pathfinders will be listed to the far right of the Pathfinder landing page.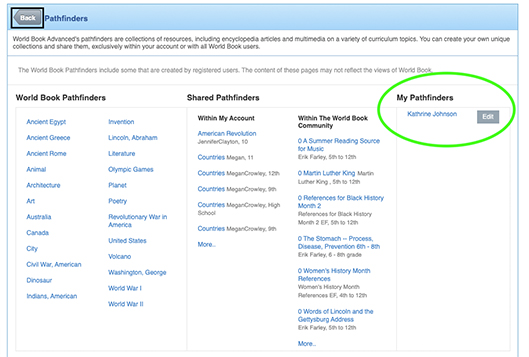 If you chose to share within your account or within the World Book community, the pathfinder will be found in those respective lists. This is another method to share pathfinders with others.