Find and save material in Student
On every article this can be found under Tools→ Save. Users can create a new project on the spot, or save to an existing project by clicking Select a Project.

For multi-media, click the save icon.

The link below can be used to save material from the search results page.

Anywhere this icon appears, a user can click to save to My Research.

Citations created in the citation builder can also be saved to My Research.

To learn more about how to use My Research in Student click here
Find and save material in Advanced
On every article this can be found under Tools→ Save. Users can create a new project on the spot, or save to an existing project by clicking Select a project.

On media, click the blue arrow to reveal a menu and details about the media. Then click Save to My Research.

The link below can be used to save material from the search results page.

For some source types in search results, such as maps, you will see the option to save multiple maps at one time. Check the box next to maps you wish to save, then click Save.

Anywhere this icon appears, a user can click to save to My Research.

Citations created in the citation builder can also be saved to My Research.

To learn more about how to use My Research in Advanced click here
If a user has created a pathfinder from a My Research project, they can save additional material to the pathfinder with these same actions. After selecting Save to My Research, simply select the pathfinder under Select a Project.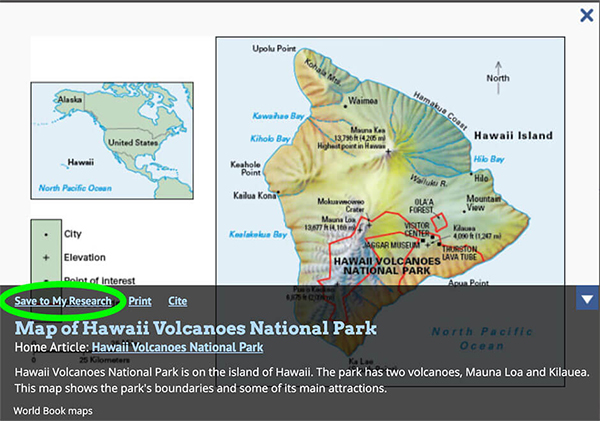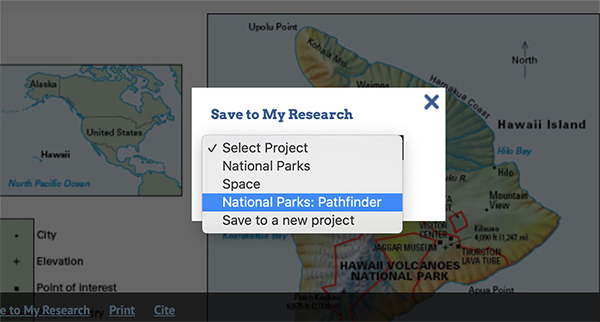 Find and save material in Timelines
Any timeline, World Book created or created by a user, can be saved to My Research.
Open the timeline, then click save in the top right. From here, either create a new project or select an existing project to save this timeline to.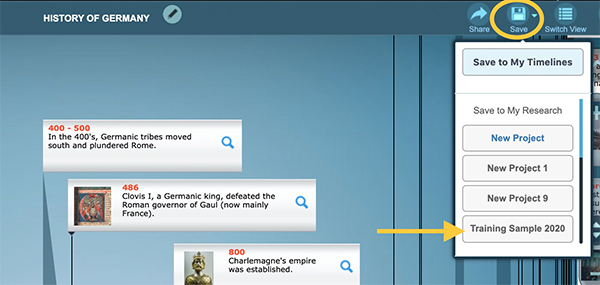 Find and save material in Discover
When a user conducts a search in Discover, they are presented with a list of results. The list defaults to encyclopedia articles, but a user can change the type of media by selecting a different type from the horizontal menu above the article results.

Users can save Discover articles to My Research directly from the results page. Simply click the save icon next to the articles you wish to add, click Save to My Research and select a new or existing project.

To save from within content, click on the gear icon, select Save, and then Select a Project.

From the drop-down menu you can choose to save to an existing project or save to a new project.