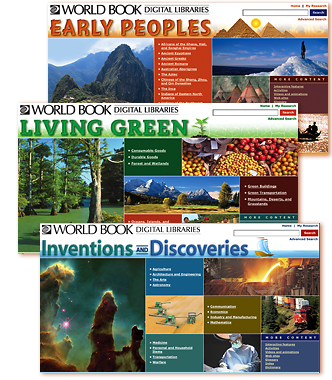 World Book Digital Libraries offer an online, interactive complement to three of World Book's print reference sets. Each library features all the content from the print set as well as videos and animations, interactive activities, websites, lesson plans, curriculum correlations, and links to encyclopedic content.

Living Green offers explanations of green building and transportation, examines cause and effects of pollution, and gives an overview of major ecosystems.
Early Peoples explores the history and cultures of early civilizations.
Inventions and Discoveries examines the greatest discoveries in several fields.
Key features include:
Easy-to-read content that helps students understand core curriculum topics
Lesson plans and reading comprehension questions enable teachers to gauge students' understanding of key concepts
Text-to-speech feature allows students to highlight text and hear it read aloud
Video tutorials and animations help visual learners grasp difficult concepts
Interactive activities engage students in the topics
Translation tool generates content into more than 100 languages
Users can enlarge font size for easy reading
Correlation to state and provincial curriculum standards and benchmarks