Access
Using the Research & Resources menu, click World Resources.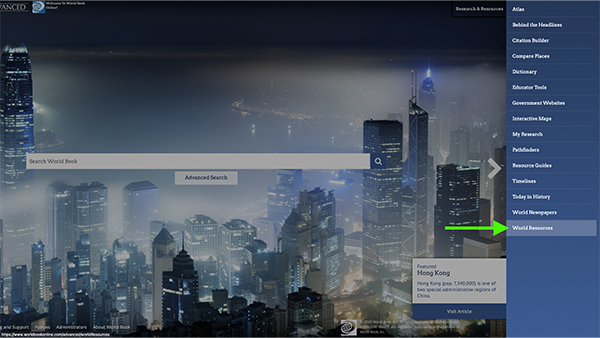 Interactive Maps
Click Interactive Maps.

Interactive Maps connects to MapQuest and will use geolocation to center around the country you are in. To geolocate to your specific location, click the Locator button.

Browse the map. Different color indicators represent different types of map locations.

Clicking on an indicator will bring up World Book articles related to that topic.

Users can also search for a specific place in the search bar.

World Book Atlas
Click World Book Atlas.

The map of the entire world will appear first. Linked to every map will be articles and/or resource guides.

Within each map, there are other maps linked. You can click on the map itself or click the link you want on the list of Links on this Map.

For many maps, there are other views (average January temperature, average yearly precipitation, etc). Click on the link for the map you want under Other Views of this Map to view.

Click Zoom Out to look at a broader view of the region.

Compare Places
Click Compare Places.
You can browse places, filter by continent, country, etc., or search for a specific place.

Choose your first place by clicking on it.

Click Explore to get fast facts about that place.

Click View Article to read the full Advanced article.

Click Compare Places to choose a second place.

Once a second location is selected, click Compare Now!

View your results! You can also print this page.