Complimentary training
Each week, the World Book training team conducts public webinars covering timely topics. Click the blue Complimentary Training button to find and register for upcoming webinars.

Click the "i" icon to learn more about the webinar topic. To register for a webinar, click "Sign up."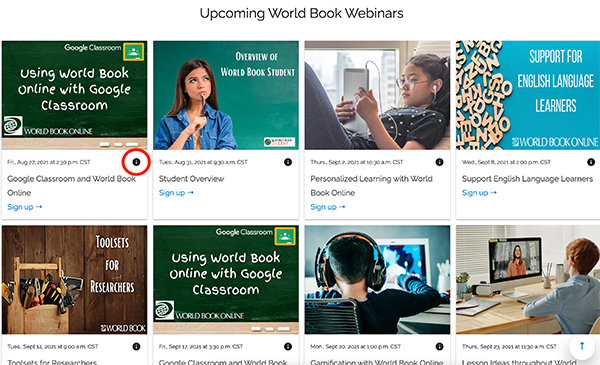 Webinars are scheduled in Central time. If you are interested in a webinar but can't attend live, still register! You will receive a recording via email after the webinar is complete.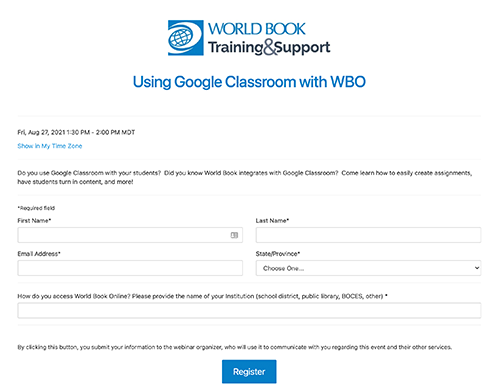 If you attend live, you will automatically receive a certificate of completion. If you watch a recording, email training@worldbook.com and we will send you a certificate.
You can also access webinars on demand. If there's a topic that you missed or you just want to learn more, there's something here for everyone!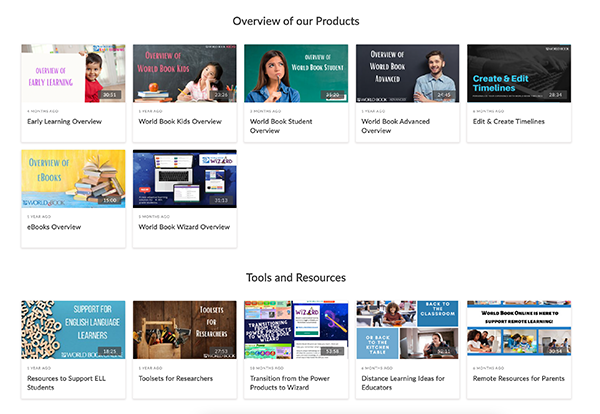 Free material
World Book wants to help make your job easier in any way we can! Click the green Free Material button to find promotional materials, learning resources, and downloadable accessibility tools.

Promotional materials
Spread the word to students, patrons, parents, teachers, and more with:

Social media posts
Bookmarks
Brochures
Flyers
Posters
Letters
Learning resources
We know how much you have on your plate so we have created resources to SAVE YOU TIME! Find:

Teaching topics
eBook resources
Distance-learning ideas
Educator starter kits to launch learning
For students
Printable how-tos
For download
Remove barriers and make World Book Online easy for your users to access.

MARC records
Shortcuts and widgets
VPATs
How-to articles
Wondering about a specific feature? Need help getting started? Click the red How-to button to find written tutorials.

How-to articles are listed by product and then by feature within each product.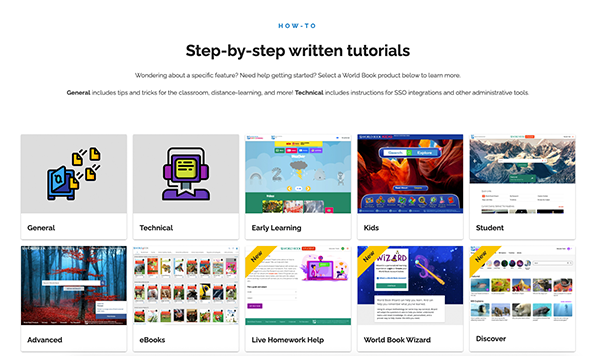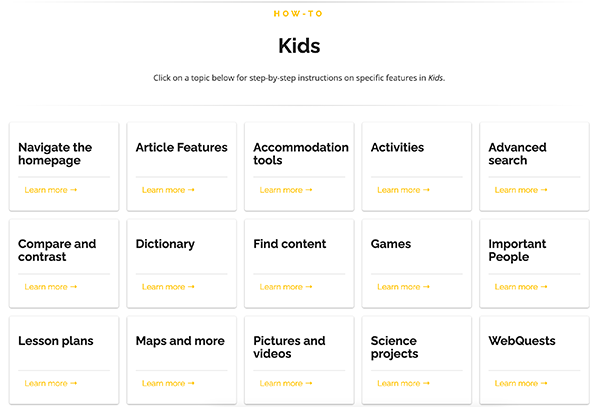 The General category includes tips and tricks for the classroom, distance-learning, and more! Technical includes instructions for SSO integrations and other administrative tools.
Tutorial videos
Similar to how-to articles, but in video format, tutorial videos go more in-depth into different features within each product. Under the "Get started" section, click the Explore video tutorials button.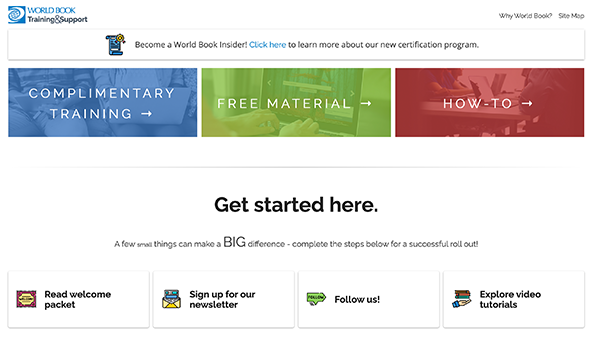 Video tutorials are listed by product and then by feature within each product. Each video also has a downloadable video transcript.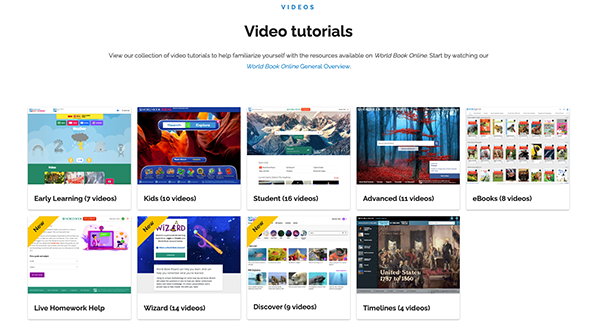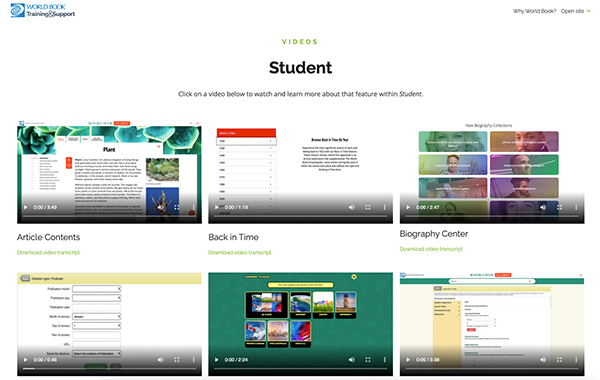 The General category includes information about features that apply to multiple products.
Welcome packet
Under the "Get started" section, click the Read welcome packet button to find full, distributable welcome packets for both schools and libraries as well as individual pages to compile your own packets.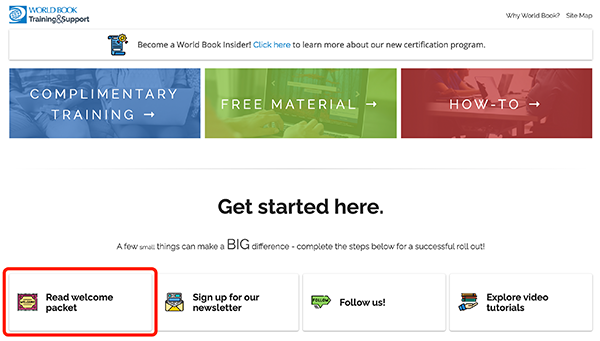 Find:
Infographics
Product descriptions
Login cards
Quick facts
Resources in Spanish
And so much more!
Customer newsletter
Each month, World Book sends out a customer newsletter highlighting new features, content, and designs. To sign up for our newsletter and be included on the mailing list, under the "Get started" section, click the Sign up for our newsletter button.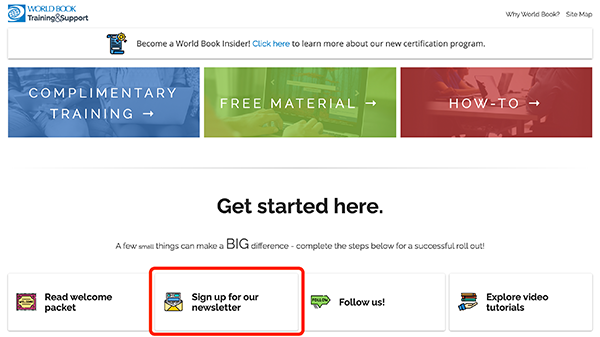 You can also view and download newsletters from the past year.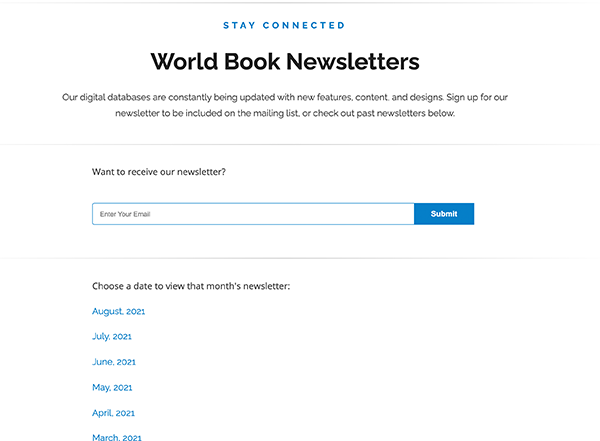 Our products
World Book Online is a suite of resources designed to captivate users of all ages. To view support materials by product, scroll down to the "Our products" section of the Training Guide home page and select a product.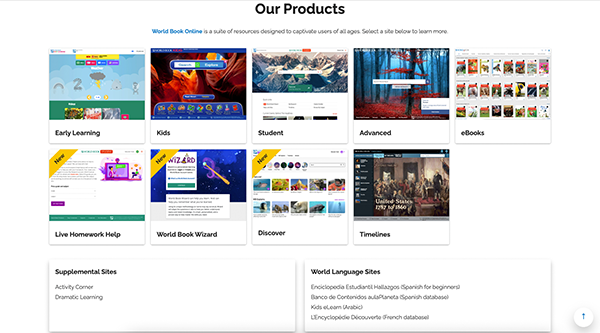 Learn more about each product with an about section as well as content and features.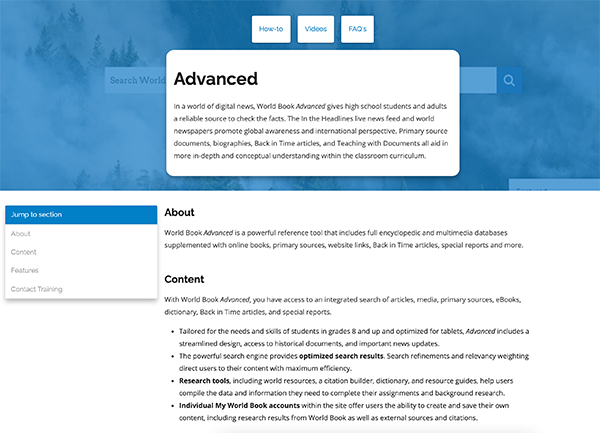 Access how-to articles, tutorial videos, and frequently asked questions from here as well.

World Book Insiders
World Book Insiders is a program that further educates teachers, librarians, and others on the benefits and value of World Book Online, while incentivizing them to share this information with their networks. This program is structured as a community of users that learn, share and grow together! As a member of World Book Insiders you will have the opportunity to directly contribute to the future of our products, get a first look at new features, and receive perks for spreading the word about World Book Online.
You can learn more about the program and apply to become an Insider from the Training Guide. Scroll down past the "Our products" section and click on the Insiders logo to find out more.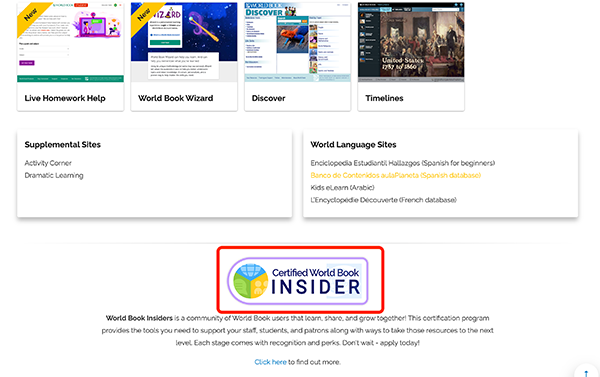 Apply for the program, learn more about the process & perks, read through the FAQs, meet some of our current Insiders, and, once you're accepted, access the course.

Scroll to the bottom of the page to register for a welcome webinar. You must attend this webinar before you will be accepted into the program.

Once you're an Insider, you are welcome to join the Insiders Facebook community and attend virtual monthly chats.

Site map
We know that there is a TON of information available here on our Training Guide, so we wanted to provide you one more way to access the content. In the top-right corner of every page, you'll see our site map.

On the site map, you'll find direct links to the content on the site, organized by category. You'll see an "All customers" section along with a section for schools and one for libraries.