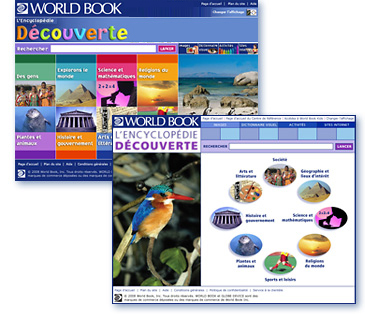 L'Encyclopédie Découverte propose les excellents articles et les vastes possibilités du contenu médiatique de World Book en français canadien.
Basée sur la Student Discovery Encyclopedia de World Book, L'Encyclopédie Découverte est rédigée par des experts, à un niveau approprié pour les jeunes utilisateurs dont le français est la langue maternelle, ainsi que pour les élèves plus âgés et les adultes pour qui le français est une langue seconde. Le site offre une navigation simple, des articles faciles à lire, des milliers d'illustrations et toute une gamme d'activités plaisantes.
L'Encyclopédie Découverte - Franšais
L'Encyclopédie Découverte offers World Book's excellent editorial content and rich media in Canadian French.
Based on World Book's Student Discovery Encyclopedia, L'Encyclopédie Découverte is written by expert contributors at a reading level appropriate for younger users who are native speakers and readers of French, as well as older students and adults for whom French is a second language. The site offers simple navigation, easy-to-read articles, thousands of illustrations, and a wealth of engaging activities.
L'Encyclopédie Découverte - English
Watch a video tour of this site
L'Encyclopédie Découverte Help